The Durham Woodworking Club was initially conceived in 1987 by Denis Lalonde, Emil Baumgartner and Herman Peters. The three fellow woodworkers had a similar interest that they wanted to share with the local community.
The club was officially founded by Denis Lalonde (Past President), Emil Baumgartner, Tom Loftus (Past Vice President), Cecil Gilpin and Bob Kitchen, back in February 1987. The clubs first meeting took place at the local Home Hardware store on Wilson Road, Oshawa. The expectation was for approximately 25 people to attend, however the first meeting drew over 40 interested woodworkers. At the first meeting, Denis was nominated and accepted the role as the clubs first President, a role that he held for thirty years.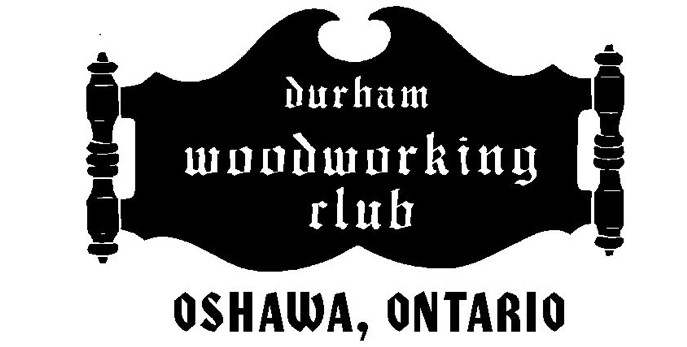 During the first year of the club meetings were held at rented rooms at the Arts Resource Center in Oshawa, however, in 1988 the club moved to the Eastview Boys and Girls club. As word spread about the club, the membership grew and the location changed in 2011, with the official opening in January 2012. Since the official opening the club now resides in the basement of the Simcoe Street United Church, with a current membership in excess of 155 active and lifetime members.
The club has been in existence for over 34 years, supporting the Durham region community with various projects, such as wig stands for cancer patients in support of Hearth Place, Pens for Peacekeeps, Pens for Health Care workers, Central Lake Ontario Conservation Authority, Kub Cars program, We Grow Food, and many more local programs and projects.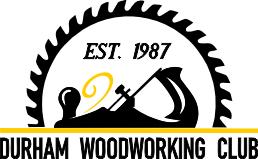 Clubs current logo, 2019
For over 34 years our goal has been and continues to be, to promote the skill and craft of woodworking in all facets, through education, information and fellowship. We welcome new members each year.
Contact
Additional contact information. President@durhamwoodworkingclub.com
Durham Woodworking Club constitution & by-laws
We can be found at 66 Simcoe Street South, Oshawa ON. (Entrance off Bagot St.) General meetings are on the first floor. The Shop can be found downstairs.